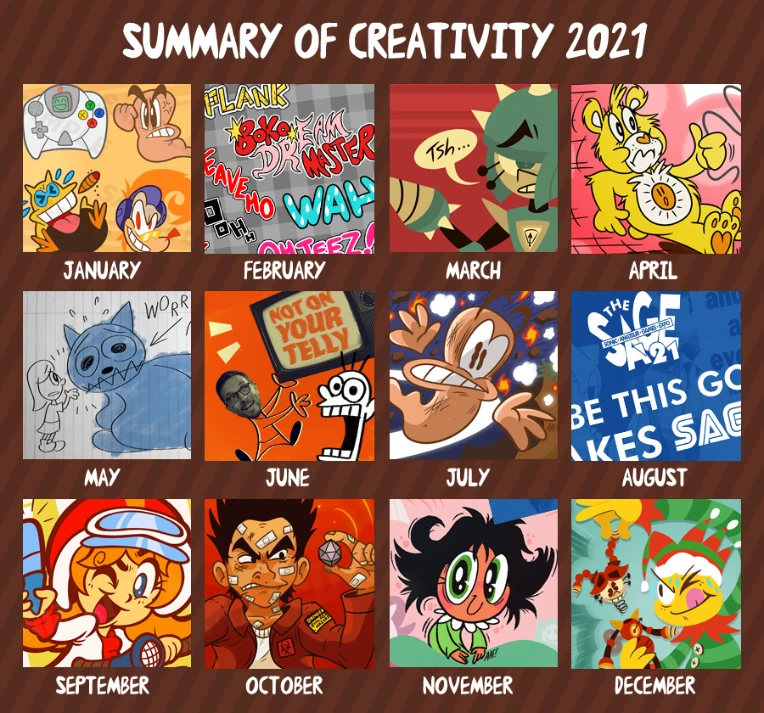 It's that time of year again, time to look over the last twelve months of creative productivity! This year was a very on-and-off one, with many months of next to nothing and a few months where I was super busy with animation work! Read on for full details on each month (with links to things in bold)!
January:
Started the year mainly keeping myself busy with gaming livestreams on my Twitch channel. Near the end of the month me and the rest of the Lucky Hit crew made the tough decision to retire the YouTube channel so we could focus on our individual Twitch channels. We did come back to the channel for the odd podcast and salt or hype stream throughout the year, along with some backups of gaming streams from Twitch. Lucky Hit was a massive part of my life for the last nine years but we all agreed it was time to move on.
Art wise I was commissioned by PCwrzd to make a set of emotes for his Dreamcastic Channel (7 made in Jan, with an extra 8th in Feb), one of which can even be bought on a t-shirt! I also started on a Dreamcast related experiment...
February:
Most of this month was gobbled up by a fan translation project for the game Bokomu no Tatsujin on the Dreamcast that I on a whim made a start on despite no real knowledge of Japanese! I mostly used translation sites and software to roughly figure how the text then put my own spin on the games quirky script. 
The game also has a lot of big cartoon font work so I decided to re-do these hand drawn! The first (and so far only) release on the project came out in March. This release has pretty much all the in-game text translated, only thing missing is subtitles for the cut scenes which tbh is a task far too big for lil' ol' me. Check out his article I wrote on the Dreamcast Junkyard about the process and I also talked about it on a YouTube video in October!
There were also more gaming streams throughout this month, with help from my newly acquired OSSC and GDEMU!
March:
I really got trapped in an artist block for most of this year up to this point. So after another month of mostly streaming games I decided to finally do another art stream and out popped this quick art based on early Fantasy Zone concept art! Soon after I finally did a full-colour illustration of Drillbot ViVi's little sister ReV, an emote for my Spelunky streams and a Phantasy Star Online commission for PCwzrd!
April:
Despite that rebound into making art in the last week of March I almost immediately fell into another art block for most of this month! I made birthday card art for CherryT, doodled a new OC and did more game streams. That's about it! Wheels were turning at the end of the month for something BIG, however!
May:
So May and June were quite possibly two of the busiest months in my working life! To start with I worked on an animated project called 'Annabelle's Journey', with characters based on a child's drawings with a simple scribbly style on top of photos of note paper. While only one out of eight chapters are available to watch publicly, this was the longest piece of animation I have ever worked on, clocking in at 7 minutes and 20 seconds, with only one month to work on it!
To make matters worse at the very same time lockdown ended and I returned to my cinema job with half of our staff quit, meaning I had to somehow juggle the animation and lots of shifts! It was a rough time with very little sleep, but the animated short was really fun and one of my proudest projects!
June:
With the money from the Annabelle project I finally upgraded from my old Wacom Intuos 4 to a XP-Pen 15.6″ Pro....a tablet with a screen on it! I was expecting a steep learning curve but I was surprised how quickly I got used to it, which is just as well as another animation project with a short deadline landed on my lap: an intro to a online variety show called Not On Your Telly! This was a mix of doodly drawn bodies and photo based heads lip synced to lyrics. It's only 28 seconds but I also had about a week to make it! 
I also made a new animation showreel, because...well *points at the above two months*
July:
Boy did I need a break from drawing after all that! So outside of a Worms commission for PCwzrd I did exactly that and just did game livestreams throughout July!
August:
This month was very, very busy at work so most of my spare time was spent resting off. I made time for a couple game livestreams including a seven hour one about SAGExpo 2021.
September:
A pretty active month when it comes to drawing...for myself for a change! This included five character pieces celebrating the release of the new Wario Ware, a fan art of Amy Rose (been yonks!) and an illustration of ViVi and Rev together. I also spent an absurd amount of time making this page of my website organized. I managed to hit 500 followers on Twitter, so I did an OC art raffle to celebrate! The winner was revealed in...
October:
The result of the Twitter OC art raffle was this illustration of Farnoggin's character Drex Apex. This was livestreamed and it gave me the idea to do a sped-up timelapse of the whole process, something I haven't done for years! This made me wanna start uploading semi-regular videos on my AnimatedAF YouTube channel again, using moments from my art livestreams as a basis.
I celebrated my 1 year anniversary on Twitch with a silly doodle, cut together videos about me talking about the times I did work for SEGA and the BBC, and reuploaded some videos/streams from Lucky Hit that were not strictly gaming related. Speaking of Lucky Hit, more gaming streams were backed up there including this years Sonic Hacking Contest and 30 Years of Toejam and Earl.
Finally I did another commission for PCwzrd, this time for a parody trading card of Ryo Ha'nuk'i.
November:
A very quiet month for art, with only one fad-chasing illustration to speak of. I also did a bunch of doodling in the game ART SQOOL on stream which I then cut down into a let's play for my Youtube channel.
December:
Literally the first day of December I came down with the you-know-what and was shut in for ten days. Once I started to recover from that I got back to work on more time-lapse videos of art streams from last year and a couple more reuploads from Lucky Hit, one of which I illustrated a new thumbnail for.
I also made birthday card art for my mum of her Wurlitzer jukebox and a new Christmas illustration featuring my OCs and an elf and toys. It hasn't been released just yet as of writing but I also made an OC secret santa here on Newgrounds. Oh, and one of those Art vs Artist things if that counts for something.