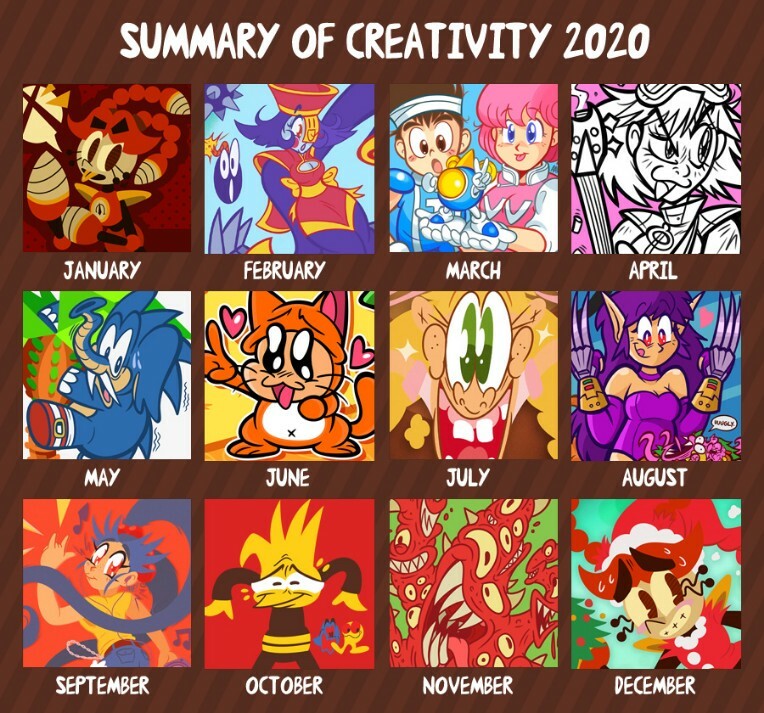 2020 was utter hot stinking garbage for everyone, but on the bright side for me all that lockdown time led to this becoming one of my most productive years for art, animation and livestreams in ages! I also got featured on the front page of Newgrounds 7 times!! Let's deep dive into what I got up to this year! (All the bold text will link you to what I'm talking about)
January
I was pretty lax in the art department for the last few months of 2019 so late into Jan I focused on getting back into the swing of things with pretty simple illustrations of my OCs ViVi and BomOink and some pretty speedy game fan arts. I also did two livestreams on Lucky Hit.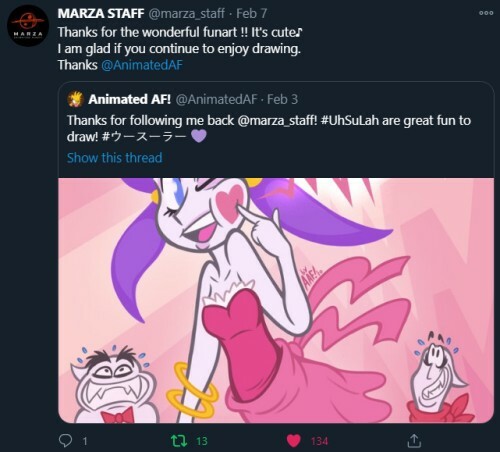 It's always nice when a fan art is seen and loved by the characters creators!


February
To keep my arty farty juices flowing I had a go at a couple of re-draws of old art which came out rather nice! I managed to keep the momentum going with fan art of Marza's ghostly mascots which did rather well on Twitter when they shared it! I did CherryT a Valentines card and this toonme thing, but no livestreams this month.
March
My illustrating ramped up as soon as the UK lockdown hit including a re-draw of art from my childhood, a Twinbee fan art that was shared by the creator of the characters, some 80′s yogurt nostalgia and a DTIYS reminding everyone to Wash their drills hands! I also did 4 livestreams on Lucky Hit.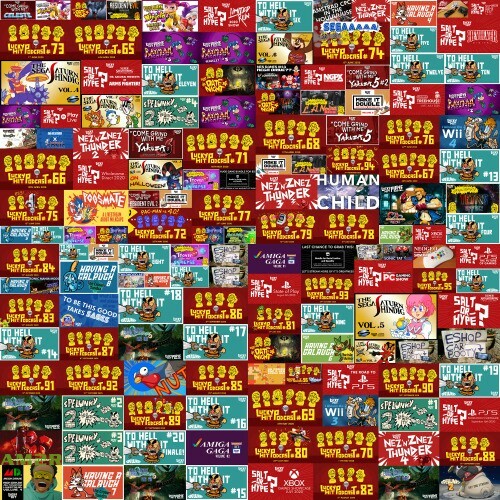 Lucky Hit was the most active it has EVER been this year!


April
With lockdown in full force we decided to finally do Lucky Hit Podcasts via discord which was such a fun way to keep in contact with each other we did one almost every week of the rest of the year! I also started some new livestream shows on there including eShop Car Booty and Spelunky: To Hell with it!
Artwork slowed down a bit, mainly joining in on the #SixFanArts trend with two sets of characters, a birthday card for CherryT, a quick vector job for Dreamcastic channel and I started working on a Spelunky sprite of myself for the livestreams.
May
Another slew of illustrations this month including one for Mermay, another childhood redraw, taking part is a very popular DTIYS, and the first of many touch ups of older art. May was also our busiest month on Lucky Hit ever with new shows like Make It Double! 
June
June kicked off with two illustration commissions in a row, followed by ViVi for an art style challenge, some more fan art and a couple more touch ups of old art. There was also plenty more livestreams and podcasts.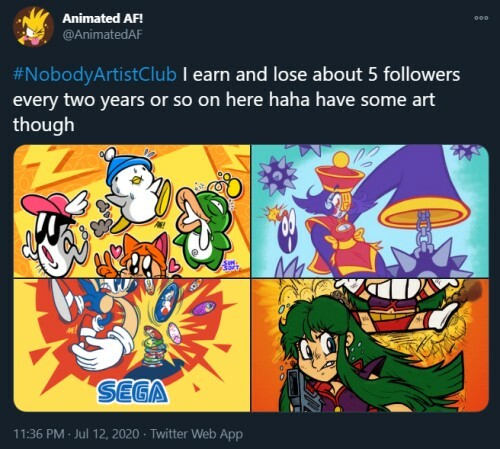 I think it was this tweet that caught the attention of a certain community manager!


July
This month was mostly spent on two animation projects: one freelance for a client and the other a shot for Frontier Psychiatrist Reanimated! Outside of yet more livestreams and podcasts, I also got an email about what would become my biggest illustration commission ever...
August
...a massive 11-character group pic for SEGA Forever! This was what I was working on most of this month, along with finishing off the animations I started in July. I returned to work after the lockdown but also continued with weekly podcasts and livestreams including a new series focused on Amiga games. 
September
Mostly spent still beavering away on the SEGA illustration between work. I also put out a re-draw of some art from my teen years and kept the livestream train chugging along including one for the Sonic Fan Game Expo.
October
I re-designed my logo from what was always just a head and hands to a full bodied character called Gaga Kun followed by a short animated loop of him for the credits sequence of FP reanimated, which was steamed on my newly opened Twitch channel!
November
I finally finished a ViVi in another art style piece, did two more commissions and started another freelance animation. Frontier Psychiatrist Reanimated launched on my Birthday! Oh and Mr.Chips.
December
Non stop month! The first half of this month was spent finishing off a Christmas animation for a client, followed by Birthday art for my friend Murry Curry, an OC Illustration for a Newgrounds Secret Santa and a ViVi Christmas artwork. I also hit affiliate on Twitch, did a Lucky Hit podcast that aired on Radio Sega and the Sega Forever commission finally released! A redraw of some Puyo Tetris art also did super well on Twitter!